BMT Consulting
BMT Consulting Inc. is a federally certified Service-Disabled Veteran-Owned Small Business (SDVOSB) that specializes in Governance, Information Technology Management and Assessment, Data Analysis, and Financial Management.
BMT is a certified user of Oracle's business enterprise software and proficient in the work of assessment through maintenance of Oracle PeopleSoft applications.
The BMT Consulting Team are subject matter experts in the areas of Program/Project Management, Business Requirements Definition, RFP Development, Vendor Evaluation and Selection Process, Business Case Development, Impact Analysis, Change Management, Software Implementation, Financial Analysis, Auditing, Business Process Analysis, and Software Development and Testing, and more.
The BMT management and staff are experienced in assessing, developing, integrating, monitoring, and maintaining internal controls and system security plans for all customer requirements for systems, subsystems, and applications in fourteen (14) years of business.
As highly educated, trained, and experienced professionals, BMT staff members proficiently work with various systems, applications, and tools to include IBM 370, 3090, 4341, AMDAHL 5890, MS Lanman, Oracle, Unix, SQL Server, Solaris, Interact, Windows, Easytrieve, IDMS, (OLM), JCL, PFS, Culprit, Lotus 1-2-3, Excel, ALPHA III & IV, PeopleSoft (Data Warehousing, EPM, FSI, HRMS, Purchasing, Financials). Other applications, systems, subsystems, servers, and tools, etc. used to administer work within the last five (5) years are summarized as follows: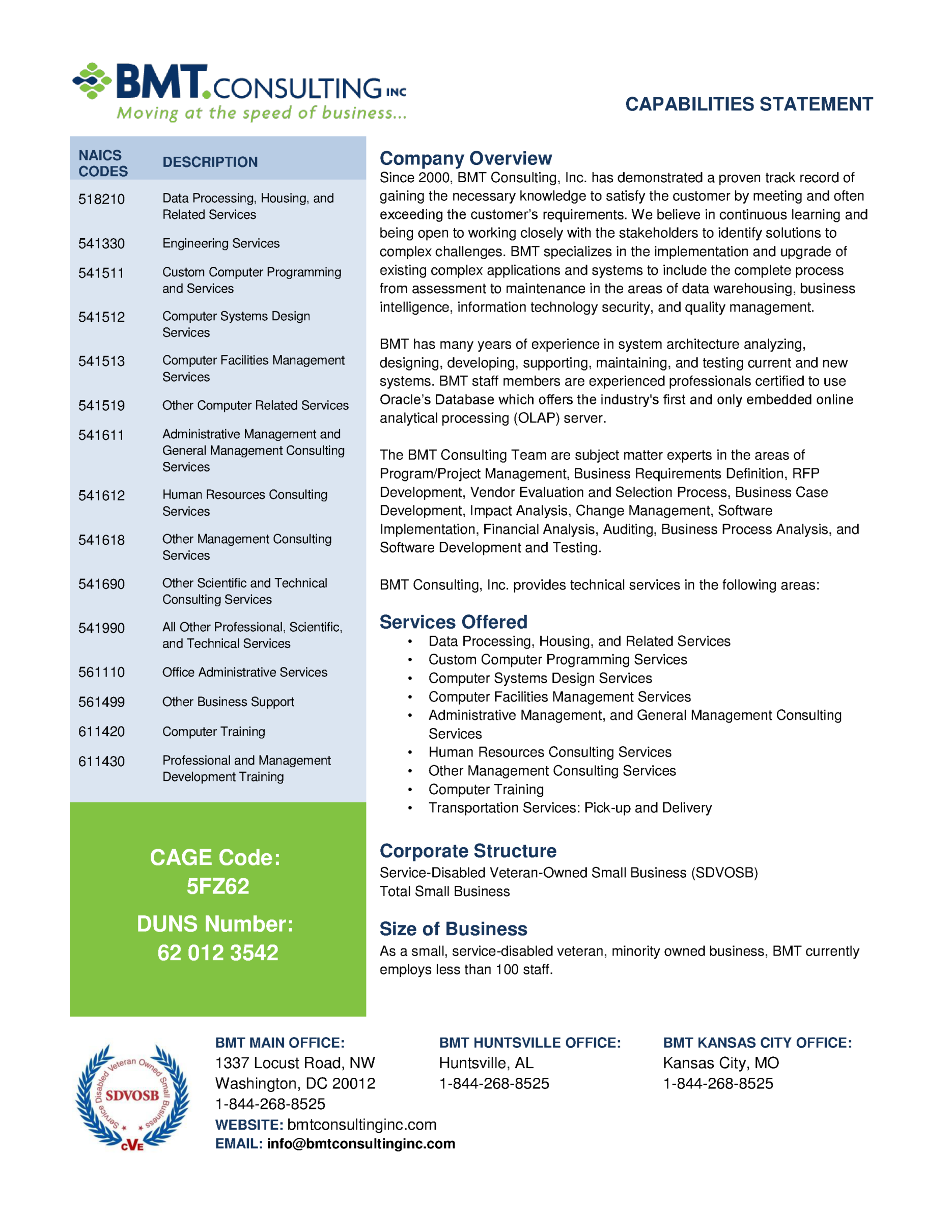 To learn more or if you have any questions, please Contact Us!